The telecommunications world is a highly competitive one. Once a world dominated by monopolies that could shovel whatever service or offering they wanted to on their customers things have changed greatly in the cellular age. Now companies look for anything to keep their edge in an increasingly competitive world and are turning to design. Let's take a look at how a few of these companies do that.
AT&T
Disclaimer: AT&T is my personal cellular carrier.
AT&T is one of the largest carriers and, as expected, they have a clean and efficient design (don't think I would call it good though). In selecting colors they have chosen to focus on their corporate branding or "livery" and everything from the nav bar to the dominant color in device screens is orange.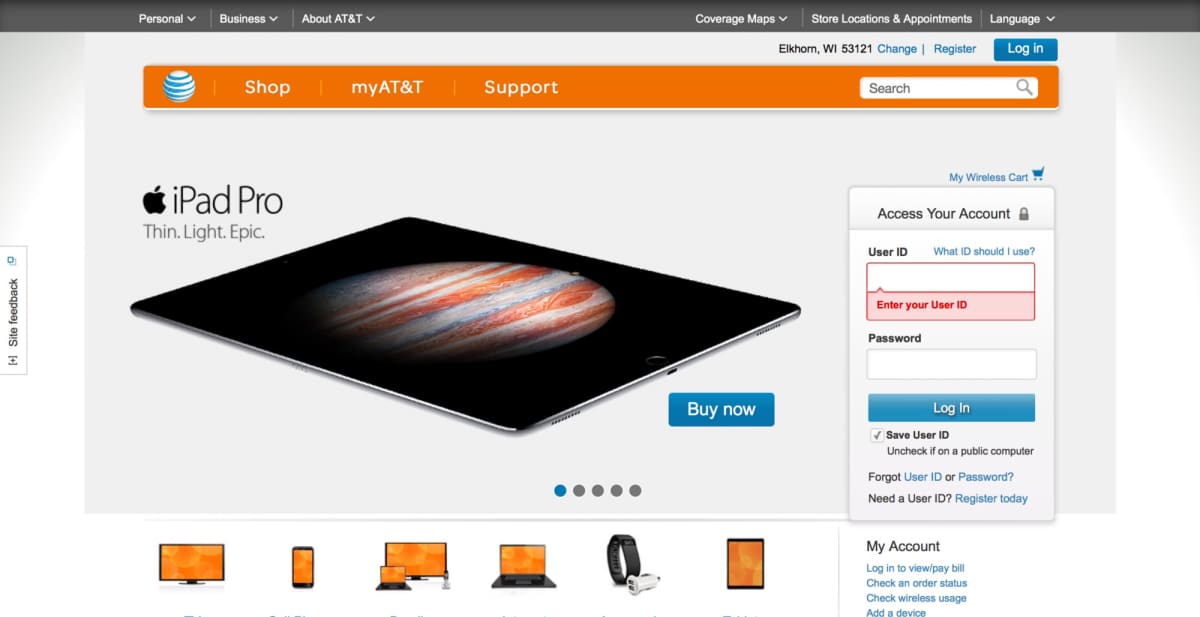 As these major carrier rely on existing customers to log in and maintain their account the user log in box is prominent on the sidebar. There's also a floating site feedback box on the left sidebar to help any user who is in trouble.
This design decidedly "sprays to all fields", as a large carrier with many different users AT&T has chosen a design down the middle to do its best to apply to all of them.
Their design decisions are typical of a large enterprise site though, it lacks cohesion and a common design language. Even the buttons are inconsistent with some using a solid color and others using a gradient. Also, just in case you want to log in, they give it to you three times in the same view.
Consumer Cellular
We can contrast AT&T with Consumer Cellular. Consumer Cellular is a Portland company that forged its way to prominence by becoming one of AARP's discount partners. Given this niche market it is no surprise Consumer Cellular has focused on seniors in making its design decisions.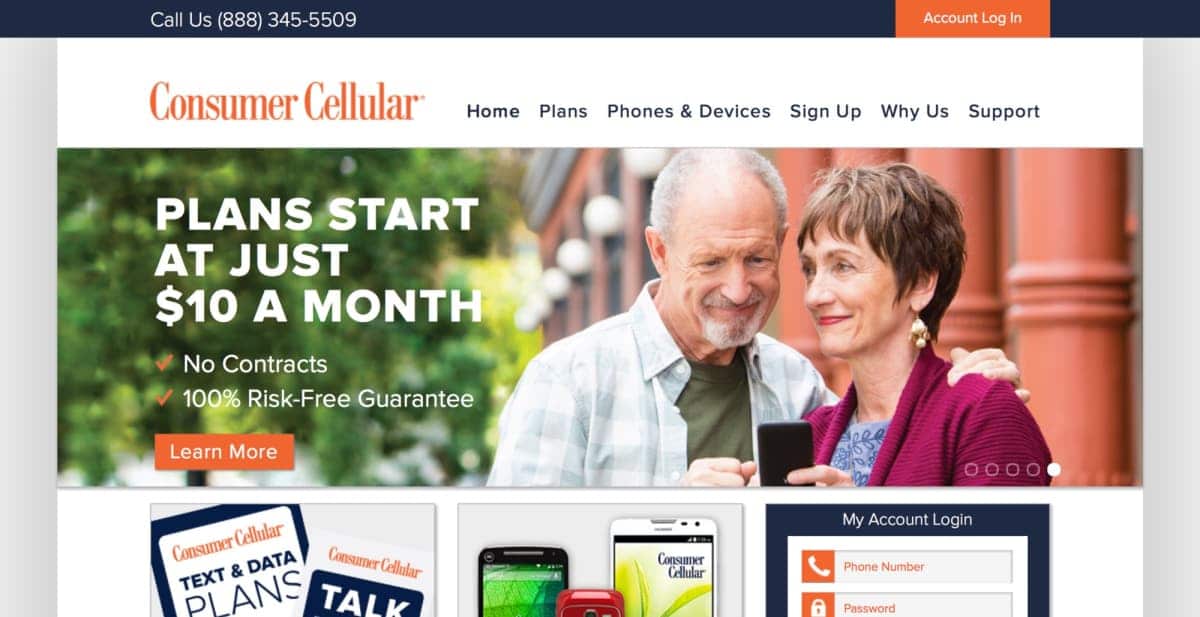 The hero image really says it all with a senior couple smiling using their device in a bright outdoor setting. As mobile devices become more complex seniors have typically struggled understanding them and using them. This image with its earthy colors and smiles of the users is designed to totally around comfort and reassurance.
Something else you won't find anywhere on AT&T's landing page is a phone number. Consumer Cellular clearly understands that despite its best design efforts many members of their target audience prefer the personal touch of a phone conversation. They prominently display it in the top left corner.
Despite its prominent placing in the top right of AT&T's website you won't find a search box anywhere on Consumer Cellular's site echoing the belief that older users prefer menus.
Moving to the footer we can also contrast the two companies. While they both choose to use the footer for site mapping we can see again Consumer Cellular's focus on their target market: the phone number is here again and the fonts are larger on a dark background for better readability and less eye strain.
Consumer Cellular, despite being a small company, had a clear design language and exudes a feeling of thoughtful user-centered design.
Frontier
Frontier Communications is a smaller company that provides telecommunications to rural communities. They don't have the resources of an AT&T or Verizon but they still have a generally well designed landing page.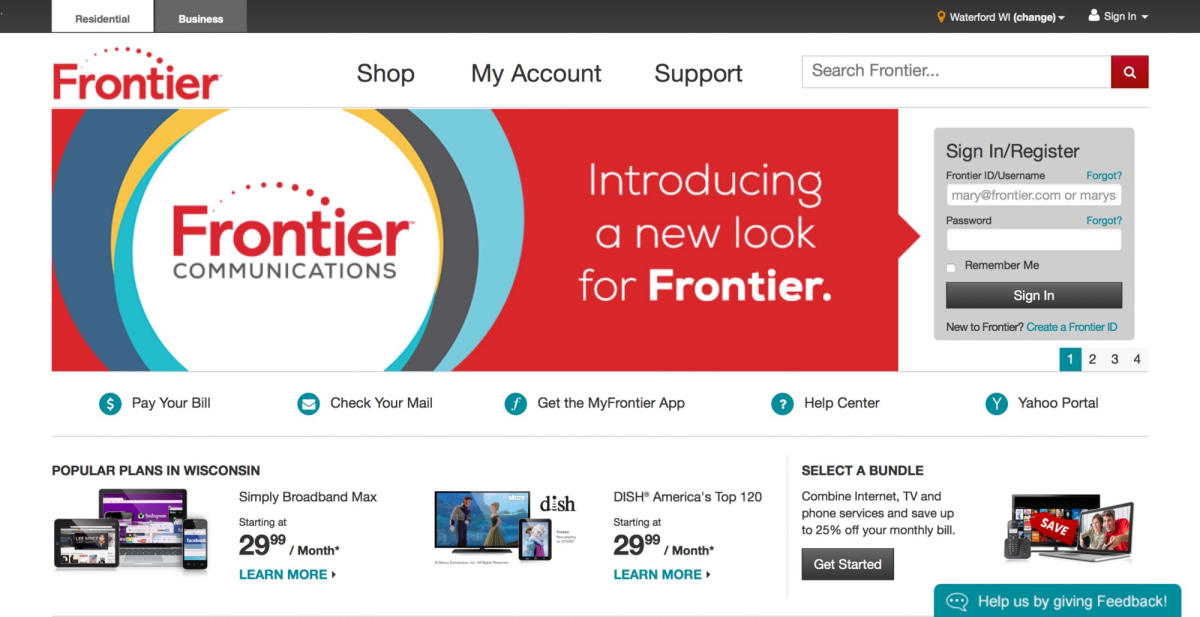 Frontier recently rebranded and has adopted red as their primary color. Red is a powerful color though and they have made the wise decision to not use it as much as AT&T uses its orange, a much less overpowering color. They chose to go with high fidelity screen captures on their devices and include the branding of partners.
Similar to AT&T they also have a floating feedback box. While it works well on their desktop site, it's a disaster on mobile.
The feedback box on their mobile site grays out the entire site and makes the site unusable until the feedback box is tapped. I'm pretty sure I know the feedback I would give them if I wasn't able to use the site without giving them feedback!
This is a clear mistkae that's been made in their design and probably evident of a lack of testing on their part. I'm not using an obscure device to check out their site, I'm using an iPhone!
Design Wins
The good part about this quick tour of telecom on the web shows each of these companies realizes that design is important to the presentation of their sites. We're definitley past the days of poorly designed sites which were confusing or difficult for users to operate. In fact, it's clear design is heavily influencing their decisions. However, as with everything else, it all comes down to the execution.